Casa Clementi
http://www.hdb.gov.sg/fi10/fi10296p.nsf/PressReleases/A824241167CB538648257BDA0013615D?
The HDB Design Award recognises consultants and architects who have produced outstanding design of public housing projects that meet the comprehensive design guidelines set out by HDB. Among the Design Awards winners this year, the recently completed Casa Clementi and Punggol Breeze received the top accolades. The projects add to the distinctive identity and character of both towns.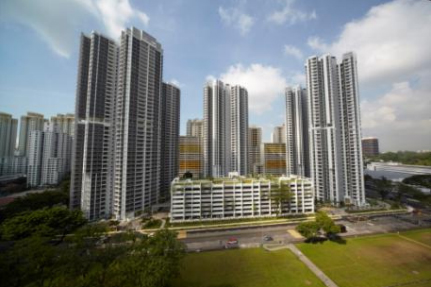 The Peak @ Toa Payoh

http://www.bca.gov.sg/newsroom/others/pr13052013_CPAD.pdf


The Peak @ Toa Payoh is a public housing development comprising two blocks of 42-storey
residential flats with sky terrace at the 22nd storey and three blocks of 40-storey residential flats. It is
located at Lorong 1A Toa Payoh.
Punggol Spectra
HDB excellence Award 2013 & HDB design award 2013 (

OpenDocument

and Straits Times on 4 Sept 2013)
http://www.hdb.gov.sg/fi10/fi10296p.nsf/PressReleases/D6D279FFCAE6943F48257BDD000F5186?

Punggol Breeze is a premium Build-To-Order (BTO) project comprising 964 four- and five-room flats in 12 blocks. Completed in December 2012, it is bounded by Punggol Drive and Edgefield Plains, and is conveniently served by the nearby Oasis LRT station, which is two stops away from the Punggol MRT station.